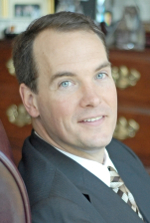 Roger S. Green, MSFS, CFP®, and the staff of his firm Green Financial Resources, LLC (GFR), have helped individuals and small businesses with their investment decisions since 1987. With thirty years of experience helping people with their money through the tough times and the good times, Roger is very qualified to assist you with all of your financial and investment planning needs. Roger's focus on customer service, education, and a unique philosophy that he and his firm will help everyone who seeks help with their money (by providing free consultations without asset minimums), he has differentiated his firm from most. GFR's primary focus is on helping people to invest with the goal of pursuing long term growth. Roger's asset harvesting plan guides the withdrawal process strategically during retirement, allowing the potential of continued growth to help ensure financial confidence throughout today's longer retirement periods.
*****SPECIAL FREE CLASS OFFERING -NEW DATE:
AGE 65+? Attend our FREE MEDICARE SUPPLEMENT class Monday October 22nd 5-7PM at Gwinnett Tech. CALL US OR VISIT RETIREMENT PLANNING CLASSES TO LEARN MORE*****
The potential impact on Social Security benefits by the Windfall Elimination Provision and the Government Pension Offset.

The Tax Cuts and Jobs Act of 2017 changed the playing field for municipal bonds that could affect the supply and demand of these securities.

Fundamental factors that can affect the short- and longer-term performance of equity REITs, including taxation of REIT shares.

The relationship between oil prices and GDP growth has become more complicated in recent years due to the expanded U.S. presence in the global oil market.
Compare the potential future value of tax-deferred investments to that of taxable investments.

Use this calculator to estimate how much income and savings you may need in retirement.

Use this calculator to estimate the federal estate taxes that could be due on your estate after you die.